WELL THAT WAS HARD!
But let's start at the beginning.
The night before the big race I had dinner with Sebastian, Gab, Josh and Steven (other UBC Intramurals staff) who were going to tri and du (yes again, but it's the last time) the Olympic distance as well. A big dinner of spaghetti, meatballs, salad and garlic bread was delicious and some pre-race chats were fun. I left to go home around 10, got organized for race day and then went to bed early because I was going to be up at 4:50am to get ready.
I didn't sleep well, but I usually don't before any event that requires huge physical activity – just an hour or two intermittently. 4:50am rolled around and I was up and at it. I started the morning off with breakfast and sports highlights just like any other day to bring some normalcy to my routine. I packed my backpack with the essentials and then began a slow bike to UBC. I then got my playlist going when I arrived (which included some Jack Johnson to start, nice and calm, and then moved to CCR, Eminem, Wolfmother, Iron Maiden and the Killers to get the adrenaline going). Registration was good and it was nice to see some friendly faces to calm the nerves again. My playlist ended and soon I was ready to get into the pool.
My wonderful parents were there as well as the ever amazing UBC Intramurals staff to encourage me and document it all with Snapchat of course. I finally got into the pool just after 7:20 and was going way too fast at the beginning, as I got tired after just 300m. After that I found a nice pace behind someone who was slightly faster than me but because I got a good kick off after every lap I could keep up with her. I was also used to swimming in pretty calm water but this was fairly choppy and I wasn't going to be dehydrated with the amount of gross pool water I drank. Finally after 44 minutes I was out and I thanked my lucky stars I was done with that part. After a quick transition I was off and onto my bike.
I got some pre-race advice and it was to go at a reasonable pace on the first lap and then go ham lap two and three, but also to save my legs for the run and take it moderate on lap four. So that's what I did. But on lap two I found myself working hard to keep a good pace up the annoying uphill. I wanted to go slower, but then I looked at the SAS pin I put on my sleeve and said to myself, "Wait, you thought this was going to be easy? Hell no, lets push it!" And that set the tone for the rest of the day. I got though the bike quick and then onto cycle trans, which led me to be like Forrest Gump.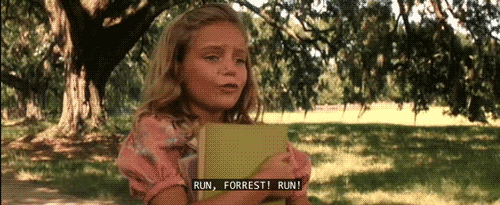 I was running, and feeling good. I mean my legs weren't 100% but all in all feeling good. That was until 3km; the water station I thought was going to help turned out to be the worst decision of the day. Powerade and water were quickly gulped down but when I stopped breathing the full abdominal cramp set in. And it really sucked. Like, real bad. But I kept on going and eventually it was reduced to just one side. After what seemed like a short time, (really it was 8km) on the home stretch it finally went away and I picked up the pace for two reasons: first, to just be done already but second, to make sure the guy behind me didn't make a last minute attempt to pass me. No way, bro!
Coming up that hill by the Law Library and seeing the finish line was a relief for sure. And then I heard the cheers from the spectators there and I was free of exhaustion and thought. It was autopilot and I was just cruising, until I saw the best couple there was – my roommate Mack Irving and the one and only nicest person of all time Ana-Maria Samper, who were both there to cheer me on. (Arsh I know you were there in spirit). A final push across the line and it was over. All the early mornings, the bland rice and little bits of motivation all came together into a way better than expected time of 3 hours 57 seconds (although I am a little choked that I couldn't break 3 hours). Some free food and drinks were in order as well as saying hi to everyone at the finish line. Then it was naptime.

Now some thanks are in order. First to the splendid Ally Anderson who proposed this idea to me; it was challenging at times to try and stay funny with my simplistic writing skills and gif finding abilities, and I hope it was good enough. Next to EC 14 and all the volunteers that made TriDu happen, I am forever grateful. Next to my mom and dad for buying me the kit I needed to make it happen. And finally to my editor in chief Mr. Mack Irving for making me not sound like an idiot to the world.
Beer time is now so hit me up.
As the Looney Tunes would say, "That's All Folks."
Just remember, "Pain is transitory, but pride endures forever." – BG
Thanks for reading/Tusind tak,
Victory Dance time:

---
by Alex Northey