Well it's done! And just like that, another season in the books and all mileage clocks are back to 0! Summer is winding down and school has slowly made its way into the thoughts to occupy most of everyone's mind.  Or – from a grad student's perspective – the blissful days of enjoying the solitude on a walk across a beautiful and empty campus, empty buses and no line-ups at your favourite coffee shop on campus are coming to an end. While caffeine is an essential ingredient to any successful graduate school stint and we could certainly do without worrying about how in the world one should finish the papers for three different classes that are due next week while preparing for that midterm, DON'T DESPAIR! Because back to school also means that triathlon training is back on at UBC! And oh, we're SO ON this year! We're proud to announce that this year, in addition to our amazing, long standing AMS UBC Triathlon Club we're presenting the BRAND-SPANKING-NEW UBC Thunderbirds Triathlon Sport Club. The AMS Club will continue to be there for people who want to do triathlon for fun and clear their minds (yeah, it works!!) from all the fun stuff school throws at you, to get ridiculously fit (also definitely works!!) or just to check that first tri off their bucket list (this one's obvious).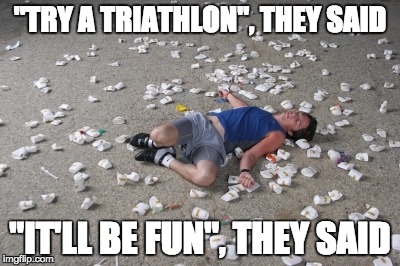 If you're looking for a more competitive training environment, the UBC Thunderbirds Triathlon Sport Club or UBC TSC Triathlon for short is your triathlon team on campus. Lead by our amazing President Anna Bennett and coached by the awesome Andrew Powell we're ready to get you ready to swim/bike/run in straight lines for extended periods of time as quickly as possible. Needless to say that on the steps of the podiums at the UBC Tri/Du, our home race in March, is where we want to help get you! If you're interested in joining, come to our welcome meeting on September 8th at 6:30 pm in IBLC 261!
We're gonna bring you the freshest of the fresh updates from within the club throughout the year right here. The first thing you're wondering is probably how our summer was and despite a couple of weeks of smoky training brought to you by the very real not-a-hoax global warming, we had a blast racing hard all over the province (and the world) with Ironman Canada in Whistler and the ITU World Championships in Penticton being two of the highlights.
"Wait!? WORLD CHAMPIONSHIPS?", you may ask. Well heck yes! Quite a few of our athletes qualified for the ITU World Championships Multisport festival, which was right at our doorstep in Penticton this year. Apart from a showcase of amazing athleticism, it was also confirmed that partners in crime really are the best training buddies and love was in the air. Jen and Winston – who have perfected the art of emoji-training-plans – were opting for not one but two of the dreaded run/bike bike/run transitions in the Standard Duathlon (10 k run, 40 k bike, 5k run)  and both really crushed it there! Even a tire leaking air and a turn missed on the run couldn't stop them from placing really well in their respective age groups stacked with the best amateur athletes from all around the world.
In case you were wondering what an emoji training plan looked like… Photo Courtesy: Jen Moroz
Still smiling at the finish line! Photo Courtesy: Winston Guo
Our second multisport power couple, the long distance and dessert connoisseurs (for any awesome recommendations, just check their insta!) Viv and Vince, who had raced Ironman Canada a few weeks prior – yeah, no biggie – qualified and added a the ITU Long Distance Triathlon (3 k swim, 120 k bike, 30 k run) to their list this year, representing the Maple Leaf in Penticton. Anyone racing the long distances is always in for a long day and so a familiar face on course and racing together is always a plus… Well these two even found each other in the craziness of a mass start swim where identities are hidden under same-colour swim caps and black neoprene. Talk about destiny! Anyway, enough with the cheesy-ness. Cheered on by their families and the awesome crowds in Penticton and despite some bike-fit issues that caused some back issues, both of them enjoyed that awesome finish-line feeling of their second long distance race within a few weeks this year! Congrats! Time for some ice-cream!
After toughing it out on course together…
… still enough energy for a smile! Photo Courtesy: Vivian Sue
In that same race was also our very own Ali. Despite being somewhat unhappy with his race himself, the rest of the executive team made the executive decision that he did ABSOLUTELY FRIGGIN AMAZING! Coming out of the water in a solid position, he made his way through the field on the bike, reeling them in one by one and backed it all up with 30 k of super solid running in the heat that was Penticton on that day on top of that, all to finish with an amazing placing in his age group. Those people on the podium better not get too comfortable, because he's coming for you next year!
Ali representing the Maple Leaf! Photo Courtesy: Ali AlEthawy
Speaking of Podium… There was also Dr. Mike, whose recently awarded academic title boosted him right onto the podium in the long distance! Podium! With the best in the world present! Definitely a "big pond" race (©Winston Guo)! Bottom line: academic and athletic excellence are not mutually exclusive but rather positively correlated!
Mike representing with a slightly bigger flag than Ali. Photo Courtesy: Mike McMillan
Flo, working to add those two letters to his name as well, tried to prove that statement to be true at IRONMAN 70.3 Kraichgau, a half Ironman (1.9 k swim, 90 k bike, 21.1 k run) race in Germany on a quick summer visit at home. Inspired by meeting Sebastian Kienle and racing in Europe for the first time (Tour-de-France-esque crowds on 20 % climbs, people playing the trumpet at the top of said climbs and buttered soft pretzels and free beer at the finish line, just your regular Europe things), he went on to crush swim and bike which together with the sun and the heat, quickly caught up to him on the run portion and made all race plans go out the window even quicker. Remembering why he started triathlons in the first place and having his family and friends from home cheering for him at a race for the first time, he toughed it out until the finish line and it was well worth it! Until next time, Europe!
Because High-Fives and cheers definitely help with all the pain. Photo Courtesy: Florian Heinkel
Another regional long distance triathlon festival for the people who think it's a good idea to propel themselves forward all day in various different ways was the yearly IRONMAN Canada in Whistler that had a half (1.9 k swim, 90 k bike, 21.1 k run) and a full distance (3.8 k swim, 180 k bike, 42.2 k run) on the menu. Monika crushed her first race on the half Ironman distance, particularly flexing her muscles on her favourite discipline, the bike, matching the big money in the high-tech race machines with raw power and leaving them in the dust. Except for maybe kms 15-15.6 on the run, she proved that an amazing time is possible while still keeping a smile on the entire time. This was duly noted by Flo, who until that point was convinced, keeping serious face and staring straight ahead would be the only way to go fast. Being the second half of multisport couple #3, Flo chickened out of racing and was on full voluncheering duty in Whistler, including a slip-n-catch-figure, keeping Monika from falling in the wetsuit stripping zone, that would make Jennifer Grey and Patrick Swazey jealous.
Not knowing who Monika was racing against on course, she barely missed the podium in her age group and rumour has it that she'll be back to take it in the full distance next year!
Proving that smiles can make you faster! Photo Courtesy: Monika Zillinger
Starting in his first full Ironman distance after a year of crushing it at pretty much every race where he toed the line was our Rockstar-Raw-Talent-Triathlete Kazune and – as you may guess – he crushed it again! He looked amazing and quick whenever he was spotted on course which is especially impressive as he was battling the stickiness of race nutrition on the bike and the run, becoming most problematic when a cup of Gatorade was mistaken for water and used for a wake-up-splash in the face. All of this didn't slow him down of course and he sqeezed in a qualifier for the Ironman World Championships in Kona this year. YEAH! The BIGGEST DEAL in the sport! If you knew his Strava record however (seriously, check it out, it's crazy), you wouldn't be too surprised as you would find insane 300+ k bike days, long and blistering fast runs, and full-Olympic-distance-at-race-pace training days in there. So yeah, he's a star! Feel free to challenge him on a climb up Cypress. And of course, cheer for him in Hawaii in October!!! GO KAZ!!
Kaz in the middle of what he does best: going FAST! Photo Courtesy: Kazune Tamura
Long distances weren't the only triathlons people tackled this year and the amazing Pam was finally back in the triathlon game after having to sit out the run portion on races earlier this year due to a knee injury. She made her comeback at the MEC Sprint Triathlon in Langley in August (750 m swim, 20 k bike, 5 k run). And what a comeback it was! Flying through the swim in classic Pam fashion – yeah, she's fast! – despite congested lanes in the pool swim, she backed it all up with a strong bike and a run where it all held together and she could gain her confidence back! She has a major advantage though, because as it turns out her Mom does triathlons, too and being chased by family in the same race gave some extra motivation! Awesome work! So good to have you back Pam!
Pam looking speedy! Photo Courtesy: Pam Villavicencio
The summer was capped off this past weekend by the Vancouver Triathlon around Stanley Park where President Anna added a new distance to her repertoire and completed her first Olympic distance Triathlon (1.5 k swim, 40 k bike, 10 k run). After successfully avoiding the barnacles in the shallow waters of Second Beach she made it out on the bike onto familiar roads and a few Sploops (the term for "Stanley Park Loop" that only the really cool people use). The run was a little hillier than expected but she held it together well overall and finished strong in a surprisingly stacked age group.
Anna geared up and ready to crush the swim! Photo Courtesy: Anna Bennett
We hope your summer was amazing as well and can't wait to meet y'all! Stay tuned for features on our coach and the execs that are coming up next!
by Florian Heinkel