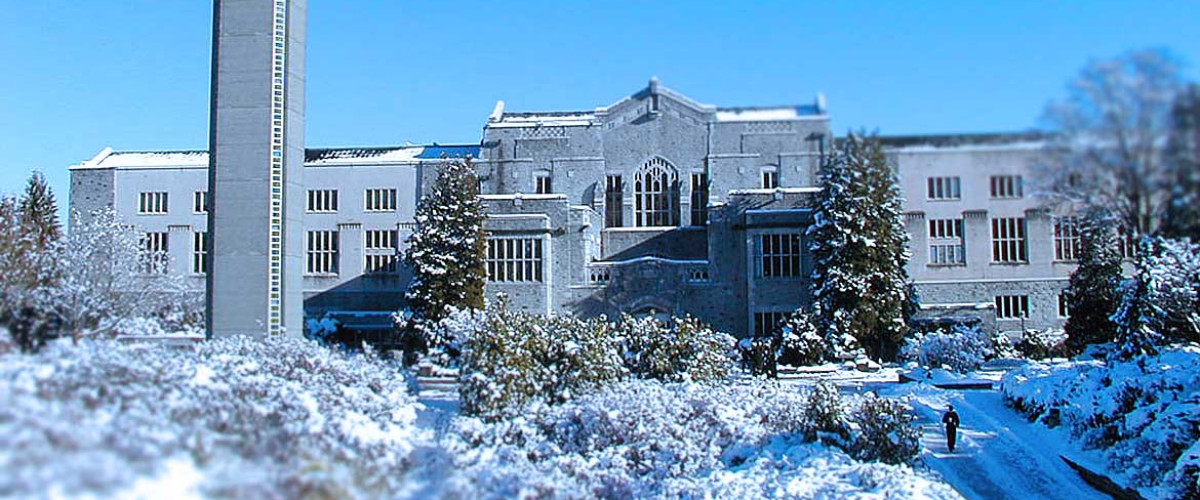 Happy holidays everyone! It's officially the last month of the year and we only have a couple of weeks left until 2023! The semester can fly by so quickly now that the days seem to last for what feels like only 3 hours. The cold, the dark, and the snow, along with endless studying for finals have created the perfect wintery mix that makes us all want to curl up in bed and hibernate until spring.
But fear not! Because the fairy lights on main mall will help bring the holiday spirit as we walk across campus to get to our finals, right? 😊
No matter the weather or season, it is still important to prioritize movement and spend time outdoors. I know for a fact that going out even for 15 minutes on a dull day can help improve my mood and make me happier, and more productive.
Here are 6 ways to keep moving and enjoy the festive season outdoors:
Ice skating at Robson
This is a classic and super fun winter activity. It doesn't matter if you're holding onto the railings for dear life or gliding across the ice like a pro. It's always enjoyable to try it out with friends.
(Hack: if you want to save the time and trouble of going downtown, UBC offers FREE drop-in ice skating for UBC students at the Doug Mitchell Thunderbird Sports Centre, all year round. Make sure to check the schedule before you plan your visit!).
Vancouver Christmas Market
If you love Christmas, Christmas vibes, Christmas shopping, and Christmas lights; then the Vancouver Christmas Market is definitely for you! There is a lot of different food to enjoy- from chocolate-dipped strawberries and hot cocoa to traditional German soups and sausages (there are options for everyone! Vegan, vegetarian, gluten-free, etc.).
Grouse Mountain
There are also a lot of different winter activities at Grouse Mountain which will bring out the adrenaline-chasing side of you. There are snowshoeing trails that range from beginner to advance, where you can enjoy some gorgeous views. You can also buy a pass for skiing and snowboarding! There is also a sliding zone which is thrilling and fun for people of all ages. There are more scenic and chilled-out activities offered as well, like the light walk (best enjoyed at night!) and the Skyride where you can enjoy breathtaking views!
Ca

pilano Suspension Bridge Park and Canyon Lights
North Vancouver has a simple, yet stunning suspension bridge across the Capilano River that hosts gorgeous views all year round. During winter it also has beautiful Canyon Lights along a scenic walk. (Personal Experience Tip: Extra layers of clothes never hurt anyone.)
Walk in the Snow
Probably the easiest, quickest, (and cheapest), of all- just go outside and enjoy nature! As an international student at UBC, walking in the snow has been a magical experience no matter how many times I do it. So, take a moment to breathe in some fresh air and watch as the snow falls like pixie dust onto the ground.
Moves at Home
Even though Vancouver offers a plethora of exciting holiday season activities, there are those days when we simply don't feel like leaving our rooms, and that is completely normal! Luckily, the Move U Crew has several at-home movement breaks that range from high-intensity workouts to relaxing stretches. Feel free to check out the UBC Rec Instagram page as well to find some indoor and on-the-go movements to try out.
I hope you can try out at least a few of these activities this break and explore some new skills or parts of the city. Remember to look after yourselves and ask for help when you need it! UBC has many mental health resources and support systems if you feel frostrated and need them during this stressful time of finals and gloomy weather.
Happy holidays, good luck with finals, and have a great winter break!
Make sure to tick off all these UBC winter gems in the scavenger hunt bingo below: